Photography is back in business post-pandemic, and we've seen rapid changes in marketing strategies this year. New clients are at your fingertips with opportunities to advertise in new and surprisingly, easier ways. These 5 marketing strategies are essential to growing a photography business in the digital age.
Full disclosure: This article was brought to you by Bloom.
1. Create Short Video Content
Short, value-packed video content on platforms like Tik Tok, Youtube shorts, and Facebook Reels is the new way of quickly growing an audience and attracting clients. You don't have to acquire millions of viewers to get booked, but you do need to engage a small, highly-targeted audience.
Instagram announced that they're becoming a video and entertainment platform. "We are trying to build new experiences in new areas," said Instagram Head Adam Mosseri. "The first is creators, trying to help them make a living. This has to do with the shift in power from institutions to individuals across industries."
It's no surprise that video is the newest medium for marketing in 2022 since "81% of marketers feel that video has a direct, positive impact on sales, and 94% of marketers agree that videos have helped increase user understanding of their product or service."
The good news for photographers? Social media is working in your favor. You can share your availability, pricing, behind the scenes, posing tips, galleries, and communicate with your audience in minutes with reels and stories.
Instagram also launched a new hub for creators geared toward helping other creators earn a livable income and monetize content. This is a lucrative opportunity to share knowledge and showcase your skills to a targeted audience.
Traditionally, Instagram algorithms have been negatively perceived due to the biased complexity of it. But now, they are shedding light on how creators can take advantage of the platform and reach their niche audience.
Make sure your short videos aren't just sharing valuable tips for other photographers – think like your ideal client and what they would want to see.
Pro Tip: Provide a link within your posts (or Instagram swipe-up options) to create an easy call-to-action for potential customers. Here is an example of a story post for a special promo and a button that takes the client straight to an instant booking form.
2. Partner With Local Vendors
Instead of building long and complex marketing funnels, focus on who already has your ideal clients and partner with them.
The quickest and easiest place to start getting clients right away is partnering with venues, photographers, catering companies, etc. Building SEO and a social media following are important, but keep in mind that it takes time and Facebook ads can add up to thousands of dollars before seeing results.
By simply direct messaging professionals in your niche offering a beneficial partnership, you can acquire access to hundreds of ideal clients.
Here is an example of a win-win collaboration: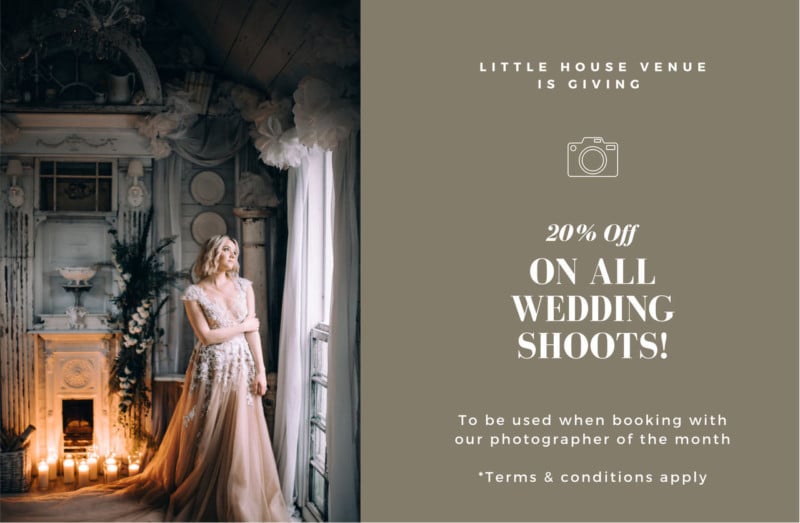 In exchange for the venue promoting your photography business and sending new clients your way, you can offer 15 edited images of the venue, a social media blast, and $100 for every referral sent. In addition, clients referred from that venue receive 20% off the full-priced photoshoot.
As you can see in this breakdown, the customer gets better service, the venue gets more exposure, and you get more clients.
Pro tip: Pursue one marketing method at a time, and don't get overwhelmed. Eventually, you will build SEO, different social channels, and more, but your greatest leverage is focusing on one marketing effort at a time.
3. Leverage the Customer Experience
Digital invoices for freelancers are a vital part of building a brand and growing your business.
Brand experience: While a visual representation of your brand is important, building a brand also requires a smooth customer experience. When you ask for cash or check payments, your brand feels outdated and your customer experience is clunky. To stand out from your competition, give your clients the easiest booking experience with modern digital payments.
Testimonials: After the completion of each project, request a testimonial to build your reviews on Google and Yelp. If you use a CRM to manage your business, you can easily automate these emails so that you never forget.
Reminders: After you completed a project, put your clients into a segmented email newsletter with regular updates on your upcoming promotions, social content, or referral incentives.
4. Make Your Customer Journey Clear
Focus on consistency in your branding, packages, and positioning to make the customer journey as straightforward as possible.
In the first few minutes of exploring your website, any client should easily identify:
Type of photography you specialize in (one niche is best)
Polished portfolio
Testimonials
Intro of the artist behind the lens
Most photographers use dated contact forms which are borrowed from large brands who use them for customer support. Instead, think about capturing the lead by reducing friction when asking for their contact info.
Start by simply capturing your lead email and then send a questionnaire requesting more details. This way you can add the lead to your newsletter and perhaps you'll even book them for a different project later on.
Pro tip: Many website hosts have outdated and overly simplified contact forms. Create beautiful forms for lead capture and booking that saves contact info.
5. Create Landing Page for Your Ads
When you run an ad, it is essential that you send potential clients to a landing page that has a clear call to action centered around a conversion goal. An exceptional landing page will have:
Context that reflects ad copy and search terms
Visual or video that invokes emotion
Social proof like client testimonials
Strong call to action
Directional cues for visitors to click CTA
Contact form
Optimized for mobile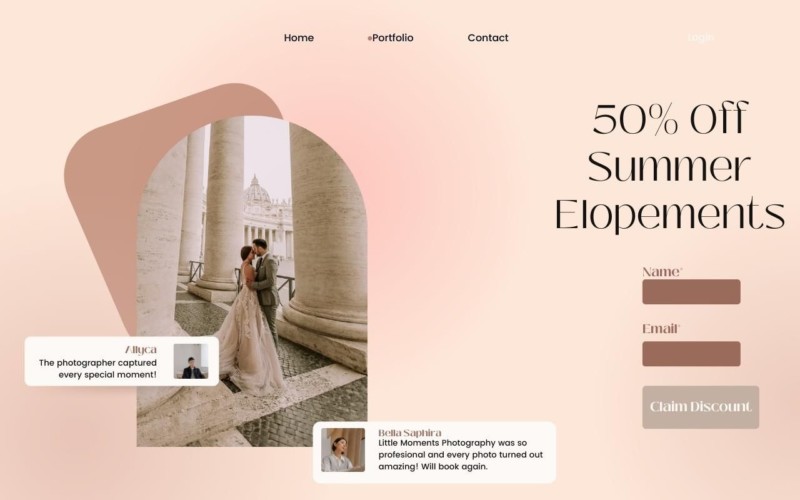 As a photographer in the digital age, you have more tools to grow your business faster and more efficiently compared to old-school marketing strategies. When you use these fresh marketing strategies, you will have content, social media, and vendors working in your favor – not the other way around.
---
Full disclosure: This article was brought to you by Bloom.

https://petapixel.com/2022/03/31/5-photography-marketing-practices-that-actually-work-in-2022/