A lawyer has criticised Sony Interactive Entertainment (SIE) for what he believes to be deceptive and potentially unlawful marketing practices related to Horizon Forbidden West.
The practices being called into question by Hoeg Law attorney Richard Hoeg focus on Sony's commitment to offer players who purchase the PS4 version of the game a free upgrade to the PS5 one.
Sony's messaging around this offer has been heavily criticised for a long time, but recent decisions by the company have resulted in the game's marketing being scrutinised more heavily in the weeks leading up to this Friday's release.
Horizon Forbidden West – Cinematic Trailer | PS5, PS4
To recap, Sony announced Horizon Forbidden West for PS5 in June 2020 before confirming a PS4 version three months later.
Speaking to The Washington Post at the time of the PS4 version's reveal, SIE CEO Jim Ryan said "no one should be disappointed" about cross-gen game announcements.
"The PS5 versions of those games are built from the ground up to take advantage of the PS5 feature set, and we have an upgrade path for PS4 users to get the PS5 versions for free," he said. "It's about people having choice. I'm really quite pleased about the situation."
However, a year later, when detailing Horizon Forbidden West's various editions, Sony said that "dual entitlement does not apply to the standard and Special Editions" of the game, meaning players would only get a free upgrade if they purchased more expensive versions.
Given Ryan's earlier statements, the news was poorly received by players, and a couple of days later Sony U-turned on plans not to offer free PS5 upgrades to users who purchase the PS4 standard edition of Horizon Forbidden West.
But it would be the last PS4 game to offer a free PS5 upgrade path, Ryan added, with all future cross-gen first-party titles, including God of War Ragnarok and Gran Turismo 7, set to carry a $10 upgrade fee.
However, the way in which Sony has recently marketed Horizon Forbidden West has led Hoeg to accuse the company of demonstrating "duplicity and greed."
If you search for Horizon Forbidden West online via the US PlayStation Store, the main pre-order marketing for the game at the top of the page promotes a $69.99/£69.99 product compatible with both PS5 and PS4.
Scroll down the page and you'll find what is essentially the same product being offered for $59.99/£59.99.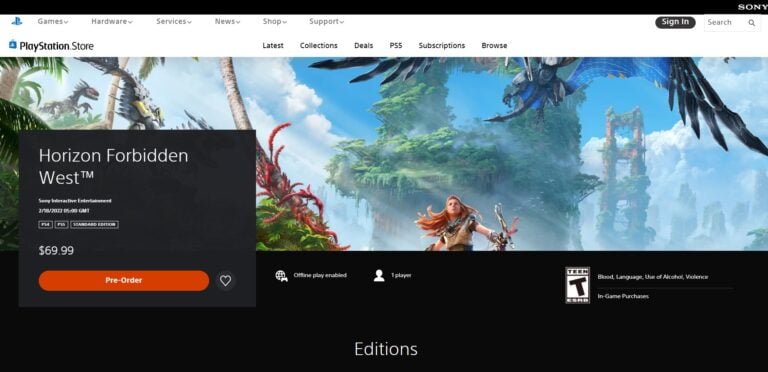 "For folks not following what's happening here, Sony is offering a PS4 version with a 'free' PS5 upgrade for $60 and a PS5 version with a PS4 copy included for $70," Hoeg tweeted on Monday.
"Same package. Two price points. With one displayed more prominently than the other."
"It gets worse," he wrote in a follow-up. "The PS4 version does not appear to be offered through the store on a PS5 at all, regardless of whether or not you ask only for PS4 games."
VGC reported earlier this month that PS5 owners could only purchase the cheaper version of Horizon Forbidden West via PC or a mobile app.
An official Sony FAQ even still carries the outdated messaging that players who buy the standard and special editions of the game for PS4 aren't entitled to a free upgrade.
"Hell, they didn't even update their FAQ (which is now a complete lie)," Hoeg said. "Tell me how casual purchasers are supposed to navigate this? It's like they want to be sued."
In the latest episode of his video show Virtual Legality, and in comments provided to VGC, Hoeg discussed whether Sony's marketing practices could land the company in trouble with the Federal Trade Commission, which protects consumers by targeting unfair, deceptive or fraudulent practices in the marketplace.
"Things like 'deceptive' or 'unfair' practices are always a bit in the eye of the beholder, so while I can say that I personally feel that this kind of thing crosses the line and appears deceptive on its face, I cannot guarantee that a regulator like the FTC or a judge would feel the same way," Hoeg told VGC.
"That said, as I mentioned in my video, you can definitely look at what has been presented and believe that material information (the ability to get a copy of Horizon for $60) is being deliberately withheld and/or obfuscated by Sony and the PS5 store presentation, and that if consumers knew they could play Horizon on PS5 for $60 many would make that election instead of paying $70."
Unfortunately for players who may already have purchased the $70 version of Horizon Forbidden West under the assumption that they were getting the best deal, Hoeg said "the FTC isn't likely to move on this in any cognisable fashion" because it has limited resources and bigger fish to fry.
It may be that consumers attempt to take matters into their own hands via a class action lawsuit, although whether such a case would be big enough to tempt law firms to take it on is also up for debate.
"I do think that this kind of thing could present a possibility of a class action claim," Hoeg told VGC. "Many individual states (not to mention jurisdictions outside the US) have deceptive trade practices statutes that allow for civil actions, and it wouldn't be surprising to see a request for plaintiffs coming from a class action firm on something like this, though it will depend on those firms' analysis of what they think they can get out of a possible pay day.
"Even taking Horizon Zero Dawn's 20 million sold number and applying $10 to it (which isn't realistic given the number of sales that will be made on PS4) has the lawyers fighting over 'only' $200 million for the class, so they will be looking to see if the bottom line number is enough to fight over."
We also asked Hoeg how he would advise Sony to correct the current situation. For example, should it only be advertising the $60 version of the game, or offering automatic $10 refunds to players who have purchased the $70 version?
"Practically, not legally, I would definitely advise Sony to change course on this," he responded. "I suspect at least some of the issues here are arising because of their issues with transitioning licenses across generations, but the simplest thing would be to change the price of the PS5 version down to $60 to match the PS4 version.
"The second simplest thing would be to make sure that the PS4 version is available to purchase through a user's PS5 and to make it abundantly clear that you get a PS5 version with the PS4 one.
"What they have instead elected to do seems to be the worst of both worlds, which would appear to be the case because they never planned to give a free upgrade to the PS4 version despite what they told the Washington Post before launching the PS5."

https://www.videogameschronicle.com/news/lawyer-lambasts-sony-for-deceptive-marketing-of-horizons-free-ps5-upgrade/