Spider-Man: No Way Home is the Marvel Cinematic Universe's most recent theatrical release, having broken box office records and the internet alike upon its long-awaited debut in December 2021. With nearly two and a half hours of thrilling action from start to finish, fans couldn't get enough of the threequel as it became the sixth-highest grossing movie in box office history. Now, the time has come for its physical Blu-ray release.
Over the past few weeks, Sony and Marvel have shared new looks into how this once-in-a-generation movie came to be, bringing together heroes and villains from all across the Multiverse. This includes everything from high-definition photos of its main stars to multiple hidden details in No Way Home's script, although fans are looking forward to more on the Blu-ray disc as well.
ADVERTISEMENT
The Blu-ray disc was said to hold more than two dozen extras and featurettes, including numerous scenes that were deleted from the final cut of the already massive movie. However, even though the Blu-ray's release date is finally here, many fans aren't getting what they were promised in terms of quantity with those extra features.
Blu-ray Release Disappoints No Way Home Fans
Reddit user u/Professional-Nature1 shared a disappointing update regarding the Blu-ray disc for Spider-Man: No Way Home, which just became available today.
The original packaging for the Blu-ray was listed with over 90 minutes of content, which included five deleted scenes, some of which have been teased in other reports. The full list of details includes the following:
ADVERTISEMENT
"Over 90 minutes of bonus content on Blu-ray including deleted & extended scenes, bloopers & gag reel

– Alternate Reality Easter Eggs

– A Multiverse of Miscreants

-Enter Strange

– Realities Collide, Spiders Unite, and more!"
Currently, many online retailers, like Walmart, are still promoting the Blu-ray with the packaging mentioning the 90 minutes of bonus content.
However, upon release, the Blu-ray now only lists 80 minutes of extra footage, switching out the deleted scenes for the "Spiders Unite" featurette on the casing. The second image comes from Reddit user u/bhlombardy, who shared what fans are currently getting on the No Way Home physical release: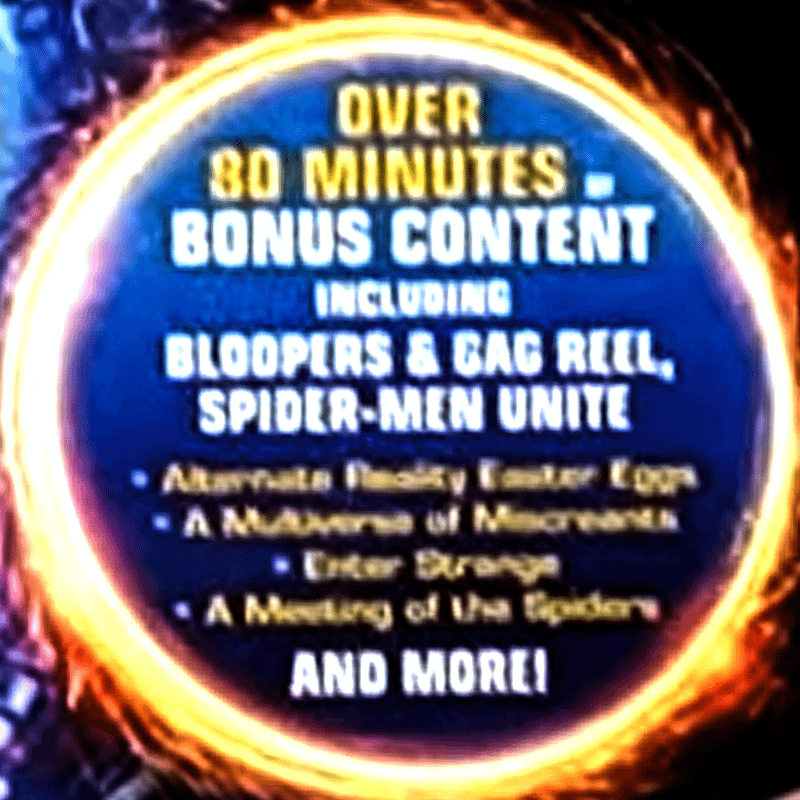 As reported by LRM Online, this matches the bonus features included in the UK release for Spider-Man: No Way Home, which hit store shelves a week early. Therefore, it seems that the Blu-ray release for the Spider-Man threequel will unfortunately not include the deleted scenes, which has led to much disappointment among fans who are putting blame on Sony for falsely advertising the home media release.
ADVERTISEMENT
Where Are Spider-Man: No Way Home's Deleted Scenes on Blu-ray?
After No Way Home became the biggest movie since Avengers: Endgame, fans were undoubtedly excited to see some of the moments that didn't make the final runtime. From more footage with Charlie Cox's Daredevil to pre-visual effects footage of Green Goblin joining the first bridge fight, even unused footage had viewers on the edge of their seats.
That excitement makes this development even more disappointing as fans who purchased the Blu-ray disc find themselves without the deleted scenes available for viewing.
It seems that many outlets didn't get the deleted scenes before the physical media release date, leading to different versions of the home release being brought to shelves instead of the full collection. It's unclear if or when the full 90-minute version of the home release will become available for purchase, but it has fans pretty upset for the time being.
ADVERTISEMENT
Considering how insanely popular No Way Home became over the past few months, this feels like quite a big error on the distributor's part in making sure the fans get what was promised. Hopefully, it won't take long before the situation is rectified.
Spider-Man: No Way Home is now available on physical and digital release.
FOLLOW MCU DIRECT
https://thedirect.com/article/spider-man-no-way-home-blu-ray-marvel-deleted-scenes